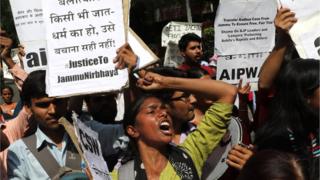 The brutal gang rape and murder of an eight-year old girl has sparked outrage and anger across India.
The body of Asifa Bano, who belonged to a Muslim nomadic tribe, was found in a forest on 17 January near Kathua city of Indian-administered Kashmir.
The story made national headlines this week after Hindu right-wing groups protested the arrest of the accused, who also belonged to a Hindu community.
People are angry that a gruesome crime has become a religious flashpoint.
Police have arrested eight men, including a retired government official, four police officers and a juvenile in connection with Asifa's death.
However, the arrests led to protests in Hindu-majority Jammu - lawyers tried to stop police entering the court to file a charge sheet and two ministers from the Hindu nationalist Bharatiya Janata Party (BJP) attended a rally in support of the accused.
Anger over the support shown to the accused quickly gathered momentum on Twitter with the hashtags #Kathua and #justiceforAsifa trending since Thursday.
Skip Twitter post by @FarOutAkhtar
Imagine what goes through the mind of an 8 yr old as she is drugged, held captive, gang raped over days and then murdered. If you don't feel her terror, you are not human.

If you don't demand Asifa get justice, you belong to nothing.

— Farhan Akhtar (@FarOutAkhtar) April 12, 2018
Skip Twitter post by @RahulGandhi
How can anyone protect the culprits of such evil?

What happened to Asifa at #Kathua is a crime against humanity. It cannot go unpunished.

What have we become if we allow politics to interfere with such unimaginable brutality perpetrated on an innocent child?

— Rahul Gandhi (@RahulGandhi) April 12, 2018
End of Twitter post by @RahulGandhi
Skip Twitter post by @MirzaSania
Is this really the kind of country we we want to be known as to the world today ?? If we can't stand up now for this 8 year old girl regardless of our gender,caste,colour or religion then we don't stand for anything in this world.. not even humanity.. makes me sick to the stomach pic.twitter.com/BDcNuJvsoO

— Sania Mirza (@MirzaSania) April 12, 2018
Some people on Twitter have also compared Asifa's death with the brutal gang rape and murder of a 22-year-old woman in Delhi, which led to huge protests and changes in India's rape laws.
Protests to continue
Rahul Gandhi, the chief of the main opposition Congress party, led a candlelight march in Delhi on Thursday night.
More protests have been planned to bring attention to brutal crimes against women in India.
The chief of Delhi Commission for Women, Swati Maliwal, has said she will be starting an indefinite fast from Friday to demand better security for women and children in the country.
Several other activists and women have also planned protests in Delhi and other parts of the country over the weekend.
Some people have also used the hashtag #Unnao to highlight another rape case in which a lawmaker is accused of raping a 16-year-old in the northern state of Uttar Pradesh.
Kuldeep Singh Sengar, 50, from the ruling BJP allegedly raped the girl last year in Unnao district. But her case was registered only after she tried to kill herself last week in front of the chief minister's home.